Relocating to Madison- explore our website for 365 things to do in Madison, Middleton, Verona, Waunakee, Sun Prairie and more!  There is plenty of "stuff to do" and you'll find all the events and entertainment here!
Join Madison's roller derby league, the Mad Rollin' Dolls for their 11th season of skating.  Roller derbys are a full-contact sport where teams compete on a track to see who can score the most points.  In order to score points you need to pass competing teams when racing but opponents will try to block competitors as they past.  Tickets are only $12 in advance or it's $15 at the door.  For children 4-10 years old tickets only cost $7.50 and anyone under 4 years old is free!  These are some races that you won't want to miss!
April 25, 2015: Bout 6 (Semi-Finals)
Doors open at 5:00 pm; Race starts at 6:00 pm
May 9, 2015: Bout 7 (Championship Bout)
Doors open at 5:00 pm; Race starts at 6:00 pm
Location:
Alliant Energy Center
1919 Alliant Energy Center Way, Madison, WI 53713
Contact Information:
P: 608-267-3976
Website: http://madrollindolls.com/
Edited by Sarah Nusekael
MKT Consulting Committee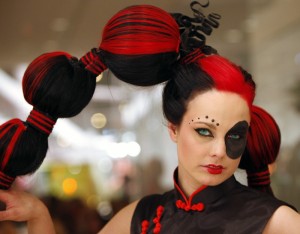 Hair Affair: The Art of Hair celebration
Date: Thursday, April 23, 2015
Time: 7:45pm-10:30pm
Location: The Madison Museum of Contemporary Art
This celebration will feature the creative talents of fifteen area salons and stylists. Models will show amazing hair sculptures that reflect this year's theme, Cirque de Cheveux (Circus of the Hair). Also, there will be a DJ, cocktails and amazing and amusing items. Come and see Madison's talented stylists!
————————————————-
When: April 25, 2015
Where: 750 University Ave.
Chazen Museum of Art
From: 12:00 PM to 3:30 PM
————————————————-
image provided by the Chazen Museum
        Looking for some fun thing to do this Saturday? Interested in Chinese culture? Come explore the "Tradition and Innovation: The Human Figure in Contemporary Chinese Art" exhibition on view through July 5, 2015. You will be able to experience not only the traditional Chinese dance performed by the famous Zhong Yi Kung Fu Association, but also the amazing modern dance by Dancas Dance Club. Traditional Chinese music instruments will also be shown and played, and you are always welcome to bring friends and family along!
Find out more at http://www.chazen.wisc.edu/
Posted by SoySauceFan MKT
Overture Center for the Arts
201 State st.
Come see the musical that over 50 million people all around the world have fallen in love with!  The characters, the story and the great music from ABBA make MAMMA MIA! the ultimate feel-good show!
Running: Tuesday April 28, 2015 through Sunday May 3rd
Times vary be day, for more info call: 608-258-4141
Or click: http://tickets.overturecenter.org/single/PSDetail.aspx?psn=29
Wonderful Scene by Water
_____________________________
Location: 4506 Larson Beach Rd. Mcfarland, WI 53558
Contact: (608) 838-7248 
Hours: Mon-Fri: 11am – 2pm
Sat-Sun: 8am – 2am
_____________________________
Cute Hand-Write Menu!
        This lovely place located around 18 minutes drive from Madison downtown, providing great American cuisine. Summer is on its way to us so we'd better pack our bags for some sunshine and beach! With the great food they are right by the water, why don't we take our friends to a small tour for fun? 

Find out more at www.locu.com
Posted by SoySauceFan @ MKT Consulting Club
————————————————————————
Address: 6718-6722 Odana Rd Madison, WI 53719
Store hours:Mon. – Sat: 11:00am – 3:00pm
           **Closed on Sunday**
contact info: 608-831-5555
————————————————————————
_Crispy Duck_
Scallop carpaccio [Very Fresh!]
        Wondering where to go for a fresh taste of authentic Asian food? Give VIP a try. Located in Ordana Rd, it might take you a small drive to enjoy the bite. But you will find it quite worth your time. Not only can you try the sashimi and sushi, but also will you experience the unique favor on their Chinese menu. Why not plan on it now?
Find out more at http://www.vipmadison.com/sushi.html!
Credit: SoysauceFan @ MKT Consulting Club
Date: Saturday, April 25th, 2015
10:00 AM (CST)
Location:
Kohl Center Nicholas Johnson Pavilion
601 W. Dayton Street, Madison, WI 53715
Contact Information:
Phone: (608) 261-LEGS (5347)
Email: crazylegs@athletics.wisc.edu
Sign up now for a run with your friends on a sunny Saturday morning!  Crazy Legs is hosting their 34th annual 8k run in Madison!  The top 3 male and top 3 female runners will receive a monetary award for participating so it's time to lace up your shoes and sprint to the finish line.  If you aren't feeling up to running you can always register to get some great exercise and participate in the 2 mile walk.
http://www.crazylegsclassic.com/
Regular Registration:
If you register before Tuesday, April 21 at midnight (CDT) there is a $40 registration fee for running and a $25 registration fee for walking.  Make sure to sign up early to get this special price.
Walk-Up Registration:
Missed the registration?  Don't worry you can register the day before or even the day of.  On-site registration will take place on Friday, April 24th from 10 am to 8 pm and on Saturday, April 25th from 7 am to 9 am at the Kohl Center Nicholas Johnson Pavilion (601 W. Dayton Street, Madison, WI 53715).  If you register at this time the registration fee for running is $45 and the registration fee for walking is $30.
Registering a Team?
Running or walking with a group?  Make sure to register by Monday, April 13 at 4:00 pm (CDT).  If you are signing up with a team there is a $35 registration fee per person.
Edited by
Sarah Nusekabel
MKT Consulting Committee
100 State, 30 West Mifflin Street, Ste. 600
Madison, WI 53703
This event takes place EVERY Wednesday
From: 9:00 AM to 10:00 AM
Every week on Wednesday this event allows local entrepreneurs to come together and network.  The name of the event originated from the concept that in order to successfully launch a start-up business it will take about one million cups of coffee.  Each week different companies present their idea to the audience and then will take questions for the remainder of the presentation.  Anyone is welcome to attend this event!  This is a great opportunity for any start-up that is interested in presenting their business as well as anyone interested in just learning about local businesses.  Of course there will be coffee, the event is based off the idea that coffee plays a vital role in both networking and entrepreneurial success.
Go on the following website to sign up to present or to RSVP if you are just interested in attending.
http://madison.sites.1millioncups.com/
The website is the best resource to receive information and to learn more about the event!
1 Million Cups is also active on social media!  Check out their
Edited by
Sarah Nusekabel
MKT Consulting Committee
Overture Center for the Arts, 201 State St
April 15, 2015 at 7:30pm
608-258-4141
Tickets: $25-$45
Their inventive choreography entrances as their virtuosity remains unparalleled. The Chicago Sun Times says they deliver "a sublime blend of emotional intensity and technical brilliance." It's no wonder they fill Overture Hall with enthusiastic admirers year after year!
tickets.overturecenter.org/single/PSDetail.aspx?psn=288
April 17th, from 6pm-10pm
@The Madison Children's Museum, 100 N Hamilton St
The Madison Children's Museum offers this Adult Swim event, so call the babysitter, it is 18+ and full of fun word games.  Bananagrams, poetry, spelling bee, a short play, as well as musical performances are sure to make this an entertaining night!  Pizza and drinks will also be available.
Tickets: $12
madisonchildrensmuseum.org/event/adult-swim-word-freaks/