Relocating to Madison- explore our website for 365 things to do in Madison, Middleton, Verona, Waunakee, Sun Prairie and more!  There is plenty of "stuff to do" and you'll find all the events and entertainment here!
Voted One of the Top Ten Most Inspiring Gardens in North America by Horticulture Magazine!
Stroll 16 acres of outdoor gardens featuring stunning landscapes and Midwest-hardy plants.  Visit the tropics in the Bolz Conservatory, filled with exotic plants, flowers, orchids, birds and a waterfall.
www.olbrich.org
The Henry Vilas Zoo has brought back the bears to Madison!  Arctic Passage features habitats that resemble the Arctic of the polar bears, The Pacific Ocean of the harbor seals, and the great west of the grizzly bears.  One of the nations free admission zoos, here in Madison!
702 South Randall Avenue, Madison phone 608-266-4732
www.vilaszoo.org
Museum Open Daily, 9:30am-5pm
Play's a serious thing, you see.  It's how we learn to invent, share, and explore.  Kids who play do better in school.  Adults who play do better with each other.  And nobody does play better than Madison Children's Museum.  Visit our exhibits, make something in our art studio, visit the log cabin, plant in the garden and so much more!
www.madisonchildresnmuseum.org
Every Saturday, 6am-2pm, Capitol  Square, Downtown Madison
Join Madison's roller derby league, the Mad Rollin' Dolls for their 11th season of skating.  Roller derbys are a full-contact sport where teams compete on a track to see who can score the most points.  In order to score points you need to pass competing teams when racing but opponents will try to block competitors as they past.  Tickets are only $12 in advance or it's $15 at the door.  For children 4-10 years old tickets only cost $7.50 and anyone under 4 years old is free!  These are some races that you won't want to miss!
April 25, 2015: Bout 6 (Semi-Finals)
Doors open at 5:00 pm; Race starts at 6:00 pm
May 9, 2015: Bout 7 (Championship Bout)
Doors open at 5:00 pm; Race starts at 6:00 pm
Location:
Alliant Energy Center
1919 Alliant Energy Center Way, Madison, WI 53713
Contact Information:
P: 608-267-3976
Website: http://madrollindolls.com/
Edited by Sarah Nusekael
MKT Consulting Committee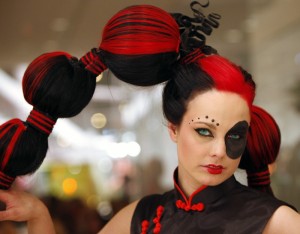 Hair Affair: The Art of Hair celebration
Date: Thursday, April 23, 2015
Time: 7:45pm-10:30pm
Location: The Madison Museum of Contemporary Art
This celebration will feature the creative talents of fifteen area salons and stylists. Models will show amazing hair sculptures that reflect this year's theme, Cirque de Cheveux (Circus of the Hair). Also, there will be a DJ, cocktails and amazing and amusing items. Come and see Madison's talented stylists!